Alangudi Kshethram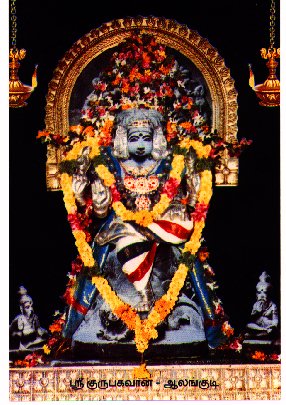 Alangudi is primarily a guru pariharasthalam. This place is nearly 17km away from Kumbakonam town. Guru Bhagavan is in the form of Dhakshinamoorthy at this holy place. The presiding deity of the temple is Sri Aapathsahayeswara or Aaranyeswara, a Swayambu Lingam, and the Goddess is Elavaarkuzhali. Thousands of people flock here to have the dharsan of Lord Dakshinamoorthy.
The Devas, churned the paarkadal (ksheera saagaram) to get nectar. While doing so, Vasuki sent out the poison from his mouth. The devas were caughtup in the poisonous fumes. They prayed to Lord Shiva for help. Seeing the plight of devas, Lord Shiva consumed the deadly poison. That was why this place is known as Alangudi (Place where Lord Shiva consumed the deadly poison) The deity was came to be known as Aapathsahayar. Here Lord Ganesha killed the daemon Gajamukhasura and hence Lord Ganesha is called 'Kalangaamal kaatha Vinayagar'.
Lord Shiva helped Sundaramurthy Naayanar to cross the river that was flooding, as a boatman, to reach Alangudi. The boat capsized hitting a rock and Lord Shiva seated on his Rishaba Vahana helped Sundaramurthy Naayanar to reach the temple safe. Sundaramurthy Naayanar received his gnana-upadesam after his darshanam of Lord Shiva in the form of Dakshinamoorthy at this temple. This temple is the Pariharasthalam for Madhyarjuna Mahalinga Peruman. This is the fourth amongst the Panchavarunya Sthalas. Vishwamithrar, Thirumal, Brahma, Lakshmi, Garuda, Ashta Thikku Balagas, Ayyanar, Veera Badrar, Mukunda Chakravarthy, Suvasanan, Sundarar have worshipped at this temple. Parvati undertook severe penance and married Lord Shiva here.