Bhagavathas at Alangudi Radhakalyanam
From 1948 to 1951 we were using the framed Lord Radha Krishna's image ( krishanar padam ) received from "Araiyur pannai" at Needamangalam. Sri Ganesabagavathar of Perambur village led the Radhakalyanm alongwith Krishnamurthy Bagavather of Mayuram. By his own style Sri Perambur bagavather would sing Jayadevar Astapathi that attracted many devotees. Between 1952 and 1954 many Bagavthers like Tiruvaiyaru Nagaraja Bagavather, Tahattur Naganatha Bagavather, Kumbakonam Tiger Jayaraman, Mutt street Ramamurthy, Balagangatharan, Melattur Balu, Nadar Krisnamurthy had participated and graced the function.
From 1955 onwards Sri Krishnamurthy Bagavathar of Mayuram along with Miruthamgam Ramamurthy of Mozaiyur and Hormonium Dhandu was conducting the Bhajans every year. He conducted the Radhakalyanam with great devotion and care till 1994. We are greatly indebted to him. His services to Lord Krishna at Alangudi are commendable and unforgettable.

After the demise of Sri. Krishnamoorty Bhagavathar, Sri E.K.Sriniuvasa Bagavthar of Kumbakonam along with Mayiladuthurai Gnanaguru conducted till 1998. It was Sr. E.K.S who was instrumental inducting youngsters into the function from the 50 th year celebrations of Radhakalyana at Alangudi. Thereafter, the involvement of youngsters was more transforming the entire look and feel of the function.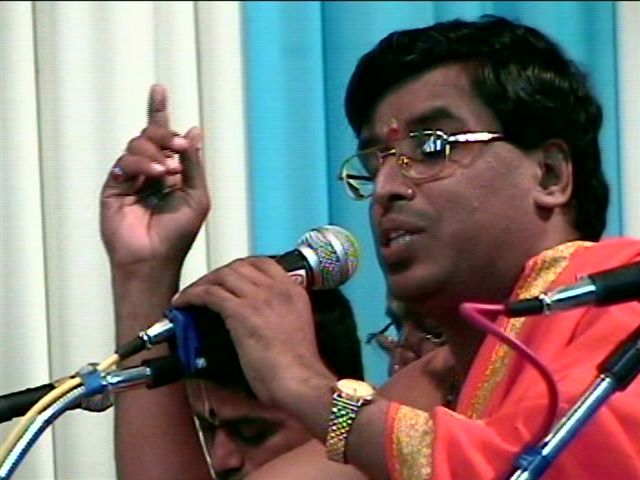 Kovai Sri. Jayarama Bhagavather is our yet another near to heart Bhagavathar. He has a lot of rasikas at this holy place. His involvement and orchestration capabilities have practically sedated many bhakthas. He has performed special bhajans on Friday on several Radha Kalyana Mahotsavam held at Alangudi. We should say that it is the grace of Lord Radha Krishna that the Bhakthas of Alangudi are fortunate enough to have the Radha Kalyana Vaibhava conducted in the presence of Sri. Guru Kothandarama Swamigal and Sri. Kannan Swamigal every year. Their presence make us feel that Sri. Sadguru Swamigal himself attends the function.