NaamaSankeerthanam / Bhajan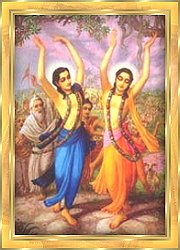 Bhajans have evolved with a variety of methods over the years. These are known as paddhathis. It comprises of Thodayamangalam of Annamacharya, Geetagovinda of Jayadeva, Krishna leela tarangini of Narayana theertha besides the compositions of many saints of India. While Ashtapati of Jayadeva of Orissa took the prominent position in the bhajan plan, the Telugu compositions of Bhadrachala Ramadasa, Kannada compositions of Purandaradasa, sanskrit compositions of Sadasiva Brahmendra, Tamil songs frm Nandanar Charithram of Gopala Krishna Bharathi, Tyagaraja kritis, the Marathi Abhangs, Hindi keertans of Tulasidas, Kabir, Meerabhai's songs added a sense of unity among the bhajan singers.
The songs sung in the traditional south Indian Bhajan are usually simple melodies. All the three forms of Indian music (classical, semiclassical and folk forms) find a place in the south Indian bhajans. The Ashtapathis and Tarangams which form a primary part in the bhajan are sung with a brief naration of slokas preceding the song. The ability of the singer in narrating the sloka with his musical skill will produce the essence of the sloka absorbed well by the listerners. Following this the Ashtapatis are sung in chorus. Thus one can clearly find that the classical method of alapana comes over in the first art and simple melody rich semiclassical style prevails in the latter portion.
The Bhajan or so called naama sangeerthan has been accorded the highest importance in the bakhi marga adopted in kaliyuga. It helps focus the mind and brings peace ultimately.
- Achala Bhakthan .