Radha Madhava Kalyanam
Padhathi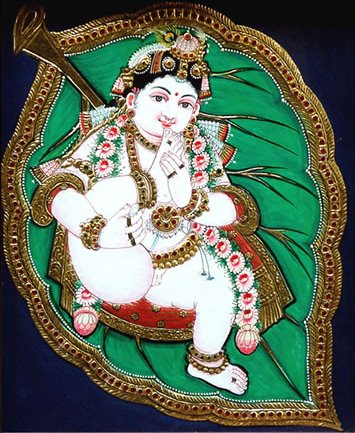 While different schools prescribe different padhathis, we summarise the Pudukkottai Padhathi as below: There are other padhathis, which vary slightly certain sampradaayams stated above but basically the theme is the same. What is more important is not the performance per se but the Bhava with which we perform. We have to consider this as a function by which we (Jeevaas) evolve and realize the Godhood in us. That is the essence of all Kalyana Paddhathis
Previous day: Poorna Ashtapathi (Day time) (Optional) - Sampradaya Bhajan, Panchapathi, Poojopacharam,) Dhyanam, Divyanaamam & Dolotsavam ) (Night)
Next day: Unchavruthi, Nischithamboolam, Vara Prekshanam, Kalyanam (day time) Pavvalimbu (night)
Usually, the Kalyanam day starts first and next day the Sampradaya Bhajan, Pooja, Dhyanam, Divyanaamam and Dolotsavam are performed, i.e. after the Kalyanam. The Poorna Ashtapathi is also optional depending on the convenience of performer. However, the above has come to stay at many places and this function is held on two days as stated first above. With some Bhagawathas, it is customary to skip Nischithamboolam and Varaprekshana (Mappillai Azhaippu, Maalai Mattal and Oonjal) in Radha Kalyanam, in view of the fact that it has to be performed in the early hours and that unlike other Kalyanams. Probably this may be due to the fact that Brahma Deva had to rush through the important functions and as there are no Sambandhis, these items may be skipped or are considered not necessary by them. It is the custom in each place that decides about this. On Kalyanam day,:
Poorvangam: Uhavruthi, Samgraha Thodaya Mangalam, Guru Dhyaanam Ashtapath i (22 nd Kalyana Ashtapathi)
(When Poorna Ashtapathi is performed the earlier day, it is the custom to stop it at 19 th , take up 20 th during sampradaya Bhajan at night and 21 st at the time of Dolotsavam and on Kalyanam day take up 22, 23 and 24 th Ashtapathis and complete the padhathi. If Poorna Ashtapathi is not performed, then only Kalyana Ashtapathi need be taken up.).
Utharangam: Gowri Kalyanam
Kotnotsavam and Musala Narthanam
Thalandu Shobhanam (Thaila Snanam)
Othiyiduthal (dress to Varan and Vadhu) & Alamkaram Choornikai
Pravaram
Kanyakadhanam & Panigrahanam
Mangalashtakam
Thirumangalya Dharanam
Aanandha Kalippu
Sangraha Poojopacharam & Upacharam
Nalangu
Parthasarathi Geetham (If Ashtapathi is completed only now with 22,23, 24 th )
Bhakthopacharam (songs on Bhaktas)
Anjaneyotsavam (If not planned separately later)
Konangi (If Pavvalimbu is not performed in the night)